Author Archive:
Sarah King
September 8th, 2011
by
Sarah King
Over on Digitalpoint I've had the ability to see where people really are for a while and mostly people are where they say they are. Its always a concern when people try to be somebody they're not and so now at the top of your posts we can now see you "fun" location and your "true location".
We all have to come from somewhere and its not that we should be proud of it, but we definitely shouldn't be ashamed. We are who we are and its what we make of our lives that really matters.
In the meantime… have a laugh at these fakers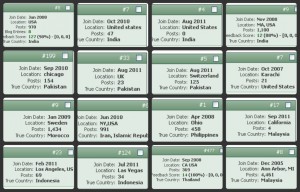 Edit
I was requested to remove any national bias so I've deliberately handpicked equal numbers for India and Pakistan but the rest of the grid shows that they are not alone – and one of the Pakistan fakers isn't there but wants to be. Actually, India is one up because I couldn't leave out the Las Vegas example. So much unnecessary detail!
I noticed that the Indians were more likely to give their location as a web address than a fake real world address.
September 3rd, 2011
by
Sarah King
I just had a query from a forum member about how to delete images from a thread. Its extremely simple once you know how… its just not that intuitive.
First up – edit the post and choose "Go Advanced".
Under the editing box you'll see a list of the attachments

Once upon a time there would have been a link beside each letting you control the attachment. Nowaday we have the Attachment Manager with a nice big button above the list.
Once there look right down at the bottom of the screen and you'll see the attachments that are on the post.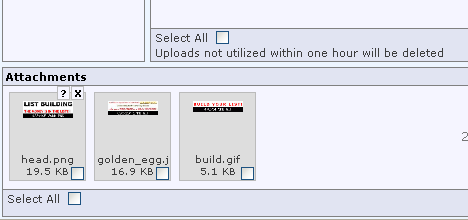 If you put your mouse slowly over one of the items a little x shows up. Click that and the attachment is gone.
When you are finished deleting the attachments which needed to be removed click Done, then save your changes and you'll find your thread looks just the way you intended.
August 15th, 2011
by
Sarah King
A quick warning to iPhone users/iPad users to test Find My Phone after installation.
I tested it against an iPhone and an iPad.
The iPhone worked instantly. "OMG Mum, what have you done" howled my daughter.
The iPad (wifi only) however refused to acknowledge the message that was sent until I tethered it to my Android phone. Instantly it was "found" and the messages sent.

Back home on regular wifi the Find My Phone system seems to be able to keep track of it.
So test Find My Phone, check it occasionally to ensure it is keeping track.
June 7th, 2011
by
Sarah King
I needed to be be able to sort the entries in a wp-ecommerce site that I am working on and the only plugins I could find were for the pre-3.8 versions.
This plugin tacks a sort order field onto the end of the category edit page. The update to the SQL is a bit rough so I'd be interested if there is a cleaner/safer way to detect which query to change the sort order for but for this version it does the trick nicely.
The sort order of blog posts is unaffected. Each category can have it's own sort order.
If you have different sort requirements it should be quite straightforward to extend the dropdown options and add to the sql result.
April 22nd, 2011
by
Sarah King
I first encountered "the cloud" back in '88 when working for a network comms company and back then it was a pretty "out there" concept. The internet wasn't even a word we knew. Then sometime in the last 10 years Amazon Web Services started offering file hosting with complicated API systems to save and retrieve your files. I wasn't in the "large file" game so I took note and moved on.
Roll onto 2010 and I saw a tweet from Dave Winer promoting DropBox and so I took a look. Around that time he was talking about using DropBox for hosting files used on his websites and I did wonder why you'd bother when hosting accounts are typically generous with disk space (a change from 2000). A quick search revealed that DropBox weren't the only players in the market and that the offerings were all fairly similar. If necessary I could have 2 gigs here and 2 gigs there and all for free.
I needed to extend some GreaseMonkey scripts around the same time and instead of uploading the famfam icons to my site I just popped them into a public folder on DropBox. What I've noticed is that if the images need to reload the images on my site are there instantly but the DropBox images have a noticeable delay. It wasn't a problem for me but I took note and was happy to use DropBox for file serving and backing up my work files but not for anything where delays would be an issue.
Roll on a few months and Dave Winer was backtracking and saying the cloud had problems for web hosting. I smiled quietly to myself.
So this morning I wake up to find DropBox has hit the 25 million user mark and without actually advertising – just by using referral codes and relying on the love of the freebie. Michael Woloszynowicz looks at the economics of it and spills the beans that DropBox use Amazon Web Services. Well, I could have told you that because as Mashable were reporting Amazon's server outage I was seeing my GreaseMonkey scripts failing to load the DropBox hosted icons.
I have no idea what caused the Amazon outage and I'm sure there are engineers reviewing it but the company is huge and will have redunancy systems in place to stop such an event. That one happened implies a significant problem. For the rest of us its a quick lesson in who we put our trust in. We choose our web hosting company and most offer 99% uptime and we demand they meet those targets. We avoid resellers and like to know that the hosting company owns and operates their servers.
So why would we entrust our files to a "cloud" repository when we don't know anything about the hosting, how they're making their money (after all you get 2gigs free) and who is responsible for the uptime.
I think the future of "the cloud" will be interesting and there may come a time when my mistrust is seen as quaint. Until then – look closely at what you save into the cloud and just what you expect it to deliver.
March 22nd, 2011
by
Sarah King
Normally I'm a very casual facebook user. My tweets are posted automatically and I check up on what my friends have posted. I don't belong to every page with a cutsie name and I'd have said my requirements were minimal.
Then I decided to use it to do something funky and the whole thing falls over.
Scenario #1
We're organising a weekend away to do a bike "race" and are sharing accommodation with friends and friends of theirs. The first facebook message comes out to all of us and if I reply it goes back to the same people.
But what if I want to forward the message on to someone? Or reply to just one of the people. Sorry, no can do.
How about if I want to know who has read their messages and who hasn't (and therefore needs a phone call)? Can't do that either.
Facebook messaging was heralded as the great alternative to email. Sorry fb, its not, not yet anyway.
Scenario #2
I'm heading off on a chearleader's trip to LA and want to post photos and video for the parents back home. We're talking pre-teens and early teens so I need to protect the girls privacy.
I don't want to be friends of all those parents so a group is ideal to protect the girls and still share some info. I can create it, add my daughter and then let her add her team mates and they can add their parents. Simple.
Except that there aren't albums within Groups and so my iPad uploader apps can't post the photos to the right place and my iPad apps don't allow me to post photos (which I wouldn't want to do 1 by 1 anyway).
If I upload the photos to one of the albums on my profile I can restrict the access but its still very limited. I can choose friends, friends of friends or specific people. I can't say "this group" and then give a link from the group to the album.