Author Archive:
Sarah King
September 12th, 2012
by
Sarah King
Some things never change but for others time plays an important role. When I search for technical info the web is now so mature that, increasingly, I'm adding 2012 onto my queries so that the date of the information becomes an important search criteria.
I thought I'd take a look at Google Trends for the last 5 years and sure enough, the "trend" to add the current year is catching on.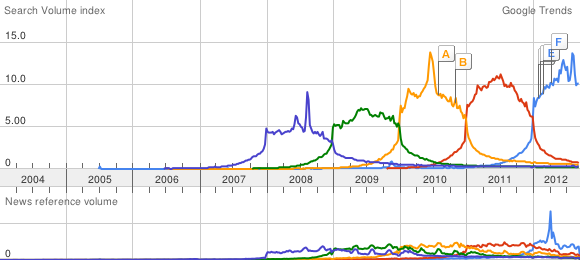 What is astounding is that there is a tail off effect at the beginning of the following year. A likely explanation would be that people are searching for corporate or sports results from the previous year rather than news or technical information.
Are you doing that too?
November 16th, 2011
by
Sarah King
A few months ago I was lucky enough to have VIP tickets to Katherine Wilson's event in NZ Fashion Week. I've since been following Katherine's blog. Most days I don't have time to read her posts but for some reason today's entry caught my attention.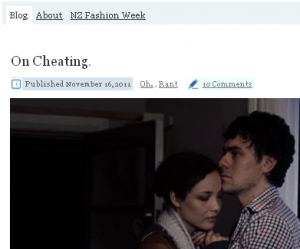 On Cheating
The article, itself, is absolutely fine. What has amused me is that Katherine has been sucked in by the low life types who post comments asking for advice on their relationships and life.
Its not ewhoring, but it is a close relative.
People who want to leave comments in blogs have to get them past spam filters and then blog owners.
First up there are the filters that look at content, sentence structure, links in the post and the IP address. What could be more benign than girly angst about relationships?
Once your comments are being accepted the filters mark your IP address as clean/safe/trusted.
The blog owner might be slightly perplexed by the comments but is more likely to be flattered that their opinion is being sought and that their blog has the kind of reader who will open their heart.
The spammer is now all set to run automated systems to spam links for paying clients over targetted blogs. Comments on posts where the blog is set to auto approve  or auto-after-x-comments will go live immediately and the blog owner probably won't notice. Moderated blog owners will probably see equally benign content and still approve.
When I saw this post I thought I'd make a helpful comment explaining how this situation had come about and all day I've watched other comments go up but mine has obviously hit some sort of road bump. It can't be that I'm not known to Katherine because nor were her help seekers. Is it because the truth hurts?
This post this comment was added to is 5 years old, the outgoing link is broken, the image link doesn't work yet the writer found it worthy of a bookmark? Yeah, right.
And just incase you are doubting that spammers could really be behind this – check out this screenshot from the promo site of one of the software packages (click to enlarge).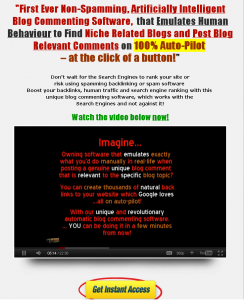 September 8th, 2011
by
Sarah King
Over on Digitalpoint I've had the ability to see where people really are for a while and mostly people are where they say they are. Its always a concern when people try to be somebody they're not and so now at the top of your posts we can now see you "fun" location and your "true location".
We all have to come from somewhere and its not that we should be proud of it, but we definitely shouldn't be ashamed. We are who we are and its what we make of our lives that really matters.
In the meantime… have a laugh at these fakers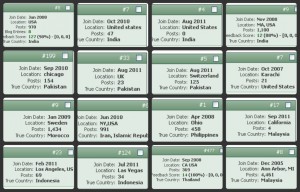 Edit
I was requested to remove any national bias so I've deliberately handpicked equal numbers for India and Pakistan but the rest of the grid shows that they are not alone – and one of the Pakistan fakers isn't there but wants to be. Actually, India is one up because I couldn't leave out the Las Vegas example. So much unnecessary detail!
I noticed that the Indians were more likely to give their location as a web address than a fake real world address.
September 3rd, 2011
by
Sarah King
I just had a query from a forum member about how to delete images from a thread. Its extremely simple once you know how… its just not that intuitive.
First up – edit the post and choose "Go Advanced".
Under the editing box you'll see a list of the attachments

Once upon a time there would have been a link beside each letting you control the attachment. Nowaday we have the Attachment Manager with a nice big button above the list.
Once there look right down at the bottom of the screen and you'll see the attachments that are on the post.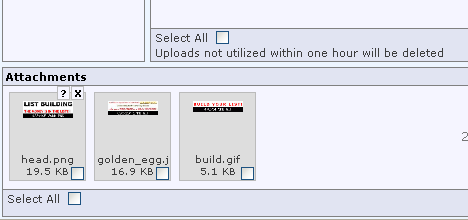 If you put your mouse slowly over one of the items a little x shows up. Click that and the attachment is gone.
When you are finished deleting the attachments which needed to be removed click Done, then save your changes and you'll find your thread looks just the way you intended.