There has been so much noise in the NZ media about surveillance, the GCSB and NSA and what is or isn't being done.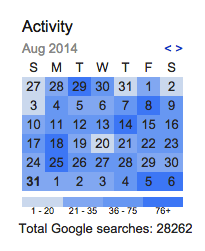 In the meantime we are all blindly using the internet with no real thoughts about keeping ourselves safe. I don't use secure email and I only know one person who does. I don't use anonymous browsing, I'm always logged in to Google – and it can give me some scary stats about my own internet use. There wasn't even 1 day in August where I didn't search for a thing?
How many of us really understand how the Internet works – or give a thought to the mechanics of it all? We pay our ISP and magically we can connect with computers all over the world to get information. We are more realistic about how websites pay for themselves and somehow teens talking about makeup become YouTube sensations and earn not just a living but a fortune.
Lets take a typical web request to facebook – most of us have accounts and use it.