Sunsilk have harnessed the power of the chat bot with a range of Wingmen. All very Top Gun, I reckon.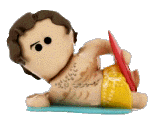 According to their pop-quiz my perfect man is David Hassle [chat with MY wingman]. In theory, perhaps, after all I grew up on Kit and Knight Rider… According to a MySpace page they've set up he's only 18. Now we're talking!
I don't know if it will catch on with my age group but the kids who love tamagotchis will probably love this.