I got an email from Jim Messenger today asking me to fix up my Property Investment directory. Well, it needs it, just not for the reasons that Jim was talking about.
Take a look at this!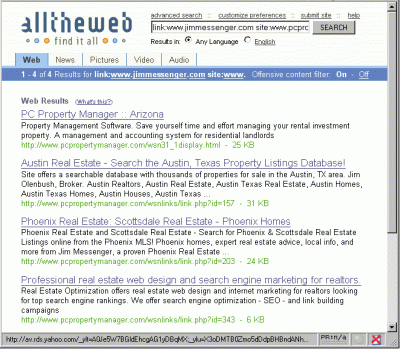 His gripe was with the 3 bottom links in the search results that I have pointing to his sites. They look like I'm trying to cheat him – and indeed the core program probably was. However I've modified the templates and my Arizona Property page gives 100% clean, PR passing links.
I've just had a dig through the archives and found the post back in October '04 that convinced me to drop the links with the redirect – more to stop the confusion than for any other reason – I guess I could have used the onclick technique.
So, all the web has been hanging onto these urls for 20 months despite the fact that they must now look like doorway pages – after all nothing links to them.
If real people actually used AllTheWeb for searching (I don't know any) I'd be thinking it was a spammers paradise. However they use Yahoo's Slurp so does this mean Yahoo has these links too?