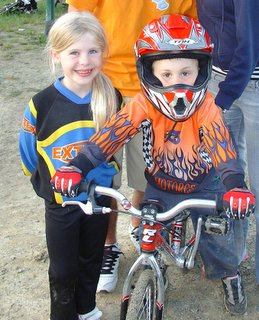 A key activity this summer has been BMX Racing with the Waitakere BMX club, the kids have even got their own national raceplates – 1355 and 1356.
Jeremy rides a GT Mach One Jr which we thought was soooo hot until we made it to a race meet and saw what the other kids were kitted out in. Charlie has a "gear bike" more suited to road and mountain biking but she does well with it. For her the challenges have been riding alongside others, getting squeezed and having to tussle for position.
We haven't started doing the circuit of race meets but it's been alot of fun this summer and we've really enjoyed taking our friends and their children and seeing how they start being really daunted at when they first see the ramps and the jumps but within half an hour they're off and taking on the lot.
Around Xmas we go down to Taupo and I got some video of Jeremy riding on the track there – while they were working on it so it was all hot and dusty. It was great fun and it meant alot to us that my sister and her husband from London could have a glimpse of what they can do.
So, one of our local bike shops was closing down. I went in to buy some bits and pieces that I didn't specifically need but it's always good to have spares of and saw a Haro mini bmx sitting all alone in the far corner. Managed to contain myself and didn't buy it there and there – waited 48 hours 🙂
I was amazed to find that even though it's quite little Jeremy won't be racing it for a while. Charlie is delighted and can't wait for racing tomorrow night.
DMOZ: Sports/Cycling/BMX/