Over the Xmas holidays my children were introduced to Volcanic Panic a maths game from EdAlive. It was a great introduction to educational games that could be played by the 10 year old cousin, and my two – all at the same time.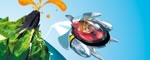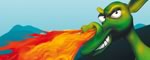 Both games have a strategic element with different 'boards' depending on the confidence of the children, gadgets to buy and an ultimate winner.
Even though my children were on levels appropriate for their ages I found the exercises in Baggin' the Dragon more advanced than in Volcanic Panic and required more reading. Not a bad thing, but something that creates challenges for younger players. Volcanic Panic seemed kinder on a 5 year old.
They have been sending out a customer survey which included questions like "have you visited our website", ummm, no… and when I did I found other games to download and trial and more information. It looks like EdAlive know their stuff!