I attended a MTB coaching course recently and one of the topics was Risk Assessment and getting medical help. I usually ride in 3 forests with cell phone coverage ranging from adequate to poor to appalling.
I decided it would be useful to find a tool that could map out the forests and give us an indication of where the signal is strongest. I checked out the app store and found "Coverage Map" from RootMetrics (available on Android too). If there are other tools that I missed please let me know.
My test forest is "adequate" and the results were fairly predictable. Get to the East, and preferably South. I know that there are black spots within the red and orange blobs but its an interesting map.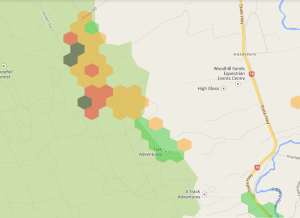 Testing, understandably, chews through your battery life, I went on a 2 hour ride with 100% battery on my iPhone 4 and returned with only 20%. If you are testing for any length of time make sure someone else has a charged phone incase it's actually needed to make an emergency call.
Apple's rules require the app to be active when it's running – it can't run in the background like Strava unfortunately and that poses problems. I ended up putting my phone in a sports band and attaching that to my camelback but even then, the cover of the sports band would press against the screen and pause the testing. I'm sure my battery would have lasted much longer if the phone hadn't needed to power up a screen while it was testing.
I had some questions for the RootMetrics team and sent them a facebook message and was most impressed to get a response – friendly and professional. My next request is going to be finding out if they have an API.
Things I'd like to do with their data:
reduce the hexagon size for more accurate reporting although I suspect this will be a privacy issue. The data is anonymous (no account creation) but if few people are testing the data pinpoints your movements.

change the map to a satellite map so I can see the forest layout more clearly.
allow 2 carriers to be shown on a single map.
All in all, the experiment is off to a good start. It'll be interesting to see how it works in the more challenging forests.