I participate in a forum for Real Estate Webmasters and a while ago accepted a link exchange with a site in Singapore.
[singapore property directory] [dreamshelter singapore property] [my profile]
Shortly after that Dreamshelter's owner posted a question asking why my directory page was doing better in the Google SERPS than his site. I checked and sure enough they've been sitting neck and neck for months. Considering I have a single page and he has a large site I find this really curious.
I use a keyword tracker to track the positions and below are two graphs generated and copied from there. I'll update them every so often.
As of Feb '05 here's a wee rundown on the two sites:
| | | |
| --- | --- | --- |
| | PC Property Manager | Dreamshelter |
| PR | 5 | 5 |
| Pages | 674 | 395 |
| Property Focus | Yes | Yes |
| Singapore Focus | No | Yes |
| pages with property | 189 | 388 |
| pages with singapore | 5 | 250 |
SERPs Charts
Singapore Properties
From August '04 to Oct '04 my page has consistently out-performed the proper site.
In November '04 Google seems to have woken up and is starting to place the full site first.
In December '04 Google decided that my page was more relevant and started placing it first and their fortunes still appear to be aligned.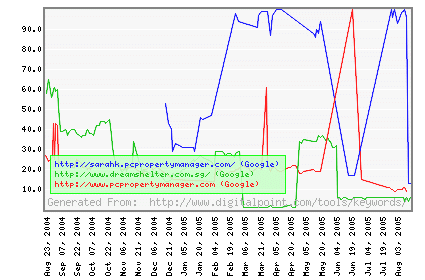 Singapore Property
The SERPs for these two pages have tracked closely. The proper site has not had the blips my directory page has had and from late October '04 Google has started placing the site ahead of the directory page.
In Jan '05 Google dropped the directory page from the SERPS altogether but has recently reinstated it, again shadowing the movements of the site.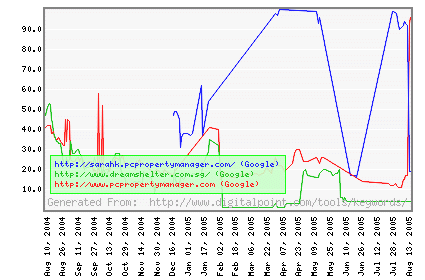 This page is shown in blue and Google was briefly interested and then got wind that there wasn't alot of value and dropped it from the top 100.
And now there is a new player, PropertyTalk will be targetting Singapore with it's Asian property investment forum