A great many vBulletin forum owners appear to be unaware that their forums can provide an RSS feed "out of the box".
This is a great shame because it limits the forums ability to grow and have visibility.
Now the naysayers will say one of two things
I don't want people stealing my content
I want people to visit the forum and if they use feeds they might not (usually because of ad revenue)
The reality is that there are a great many forums out there all competing for the same users and you need to use every competitive advantage there is. In vBulletin it's things like allowing users to subscribe to daily digests of posts to a forum. Pretty much the same thing result as an RSS feed but it's turned on by default and forum owners don't proactively turn it off.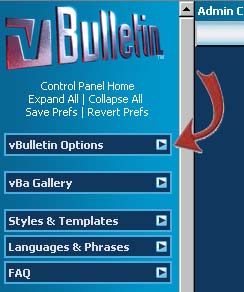 Forums like DigitalPoint grew from Shawn's reputation and also because of his excellent keyword tracker which sports the five latest posts on every page. Even when you are not in "forum posting mode" you will look at that list while you're waiting for the check to finish processing – an it drives you back to the forum.
So you can use the RSS feed to drive users from another part of your site back into the forum, or from an associated site into your forum. After all the feed provides fresh content for the other pages. And chances are that fresh content is keyword rich!
Oh, and RSS feeds allow you to submit to my Top 100 vBulletin directory which uses the feed to give both inbound links and to measure forum activity.
Turning on the RSS Feed
First of all log in to the Admin Control Panel. You'll see on the left hand menu that right at the top there is "vBulletin Options". Click on that and then on the options choice and it'll show this panel. Scroll right down to the bottom and look for External Data Provider and select that. Click on Edit Settings.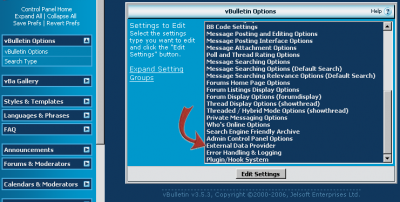 Once that window is open you have a number of choices.
At a minimum you need the RSS feed checked. Personally I see no harm in having all 3 checked.
The number of days to show feeds for will differ depending on the busy-ness of your forum. You should aim to have atleast 10 items showing at all times. For some that might be 1 day, for others it may be significantly more!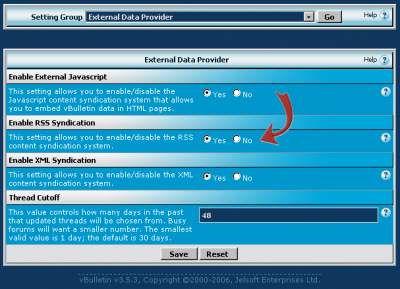 Once you've saved you'll find your feed at http://www.mysite.com/forum/external.php