Westfield are an Aussie chain of stores dominating the Auckland retail scene. Today I had the misfortune to visit their St Lukes mall.
When I arrived they had their free holiday entertainment going and the place was buzzing. But did the Mums who brought their wee darlings along realise they were going to be subjected to The Flintstones Great Water Buffallo Weight Loss Challenge – huh?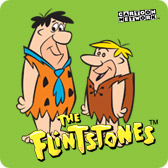 Enjoy Flinstones live stage show featuring Fred, Barney and Dino.

Fred has taken on the challenge to lose 10 pounds so he and Barney can have a weekend away in Rock Vegas. Fred may have bitten off more than he can chew as he is so hungry all the time. Will Fred live up to the challenge and win their trip?

The trio will take on an adventure of comedy, music, song & dance and is guaranteed to keep you in fits of laughter!

* Date: 21st and 22nd of April
* Show Times: 11.30am & 2.30pm each day
Now I didn't get how this is suitable fare for preschool and primary school aged kids.
I can see how the 5+ a day campaign is good to get them eating fruit and veges.
I totally endorse the Push Play for 30 minutes a day programme.
Both of these are relevant to my children.
But while I may battle with my weight (I'm not overweight but we all aspire to be thinner…) I try very hard not to give my children negative messages. I put them off some foods and I try to be a good role model and I encourage them to be active. I certainly wouldn't advocate to children that going hungry is good, that losing weight to win a competition is good (ever heard of see saw dieting? )
This "show" was wrong on so many levels!
Interestingly I talked to the Customer Services people in the Mall and they didn't know what the content was. I talked to a male crew member who said he didn't know what the show was about, he was a one day only contractor.