Or "How your affiliates can kill your brand".
We've got an interesting situation at digitalpoint at the moment where a bot (or just underpaid, semi literate humans?) signs up for new accounts and posts a handful of identical posts.
Human seems possible when you see them leave in their instructions (should be clickable)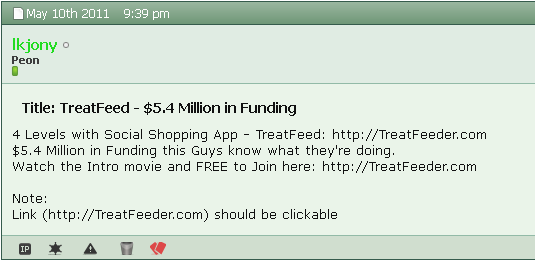 An email to TreatFeed hasn't elicited any response but you'd have to think all that funding will have to go into marketing to clean up the negative PR associated with all that spam.
Another problem child is DVDrip who try to lure you into downloading a new release DVD from Filesonic – a pay per download site. They're not happy that their links are being spammed about the place and I gather they are watching DVDrip with interest. Good job!
Akismet
I'm at a loss as to why these posts aren't ending up in the moderated threads queue reserved for those that Akismet finds dubious. Surely digitalpoint isn't the only forum being spammed by these two? How long until they reach the threshold and start getting sidelined? Not long, I hope!