Yesterday afternoon Hilz, my wonderful sister in law, offered us some tickets to Bad Jelly the Witch. It was being produced by the Southern Stars Charitable Trust who somehow manage to make money while giving away huge numbers of tickets (but when you buy them, wow, they're pricey). The shows are always fundraisers for charities, this time it was for Epilepsy Auckland and North Harbour.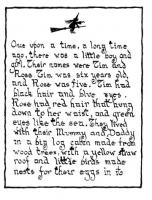 I decided to take my mother, my 2 children (8 & 6) and 2 of their friends (7 & 6).
Because my mother has taken my children many, many times before they knew the routine by heart. We queue, they play and then we race in to get good seats. Front row of the balcony is the preferred position.
We got a big surprise this time, every child got a free copy of Spike Milligan's book! What a blast. I don't know who organised that but thank you! We'll probably be donating a copy to the school library but it's very appreciated. All the children had a good read of the book before the show started and even though the script is all swirly they took great pride in being able to read it.
The show itself was great. They do a wonderful job.
Thanks to the Spike Milligan Tribute Site for the page image.