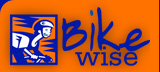 Bikewise is an initiative to encourage NZ'ers onto their bikes and it's held in the first week of February. Never mind that cycling on the roads is only for the truly brave and committed due to our roads barely catering for bikes.
We love bikes though so we'll be embracing Bikewise again this year – and even organising an event (details to follow).
You will definately find us at the Mountain Bike Jams at Woodhill but we'll be missing the Western Springs ride which is a really good event for most children.
Unfortunately when I don't work from home I work across the harbour bridge – no cycle lane – so biking on Go By Bike Day is not an option.