Pt Chevalier School is lucky enough to have a wonderful teacher called Chris Moore. Every second year he puts on a "whole school production" and it's a mammoth effort. I don't know about this year but last time each of the local schools were vying to outdo each other and we easily stood with the best of them.
We're half way through the "season" with our small children doing 2 daytime and 3 evening performances. And it's fantastic. There is a central story, originally written by Pineamine Taiapa in 1958, and mostly original music and script. There is a core cast and then groups of classes come in to illustrate the story as it progresses. Classes with smaller children are mixed with the older children and even the newest of new entrants have a role to play. And at the finale all the children are brought back in, each given a turn at the front so gushing parents can catch their child's eye.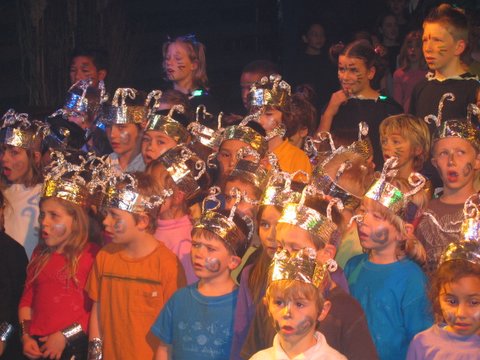 My daughter was a tui while my little boy, in the white shirt at the front, was part of the scene where a warrier realised he had incurred the wrath of the Gods and was an "emotion". A big call for a wee fella. I thought they both were marvellous and hopefully I'll be able to get a photo of the tui too. I can't wait until I replace my camera!