In the article that follows Trevor Mallard is quoted as saying
The "politically correct" habit of not keeping score in children's competitions should be a thing of the past
Well it should be, but I have children at primary school and at their school sports there are events that are highly competitive but, most noticeably in swimming, there are many events that are not competitive or where the results are not recorded.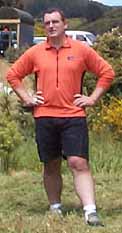 My two both play netball and while the results for the game are noted, there is no league for and end of season result.
My son plays soccer and his team has lost only one game this season. The neighbours boy's team has lost none. Yet my son's team is in a higher grade. Surely this points to a random allocation, and not actual grading.
And finally, BMX NZ has a Sprockets program for riders who are UCI 8 or under (ie they are no older than 8 at the end of the current year). Positions for their races aren't even recorded at race meetings – and trophies are given for participation.
The boys, in particular, know exactly where they stand at the end of a race meet. They don't need recording, but it does feel a bit like we're cheating them.
I'm attending the BMX NZ AGM in a couple of weeks and I'll be taking my clipping with me to see if attitudes can be changed. The last thing I want to do is to detract from the excellent program that's been setup, I'd just like a little recognition for the effort these kids put in.
PC sport thing of the past, Mallard says

The "politically correct" habit of not keeping score in children's competitions should be a thing of the past, says Sports Minister Trevor Mallard.

Mr Mallard was quizzed yesterday at Parliament's finance committee about New Zealand's medal tally at last year's Commonwealth Games and whether more medals would have been won if athletes were "harder".

National MP Eric Roy said many international commentators had said Australia's success at the games was because of its athletes' competitive nature.

Mr Roy wondered whether "politically correct" attitudes in sport, such as scores not being kept in children's competitions, could be to blame for a soft attitude towards winning.

"Can you tell me one sport that does that around New Zealand?" Mr Mallard demanded to know.

When Mr Roy said netball, Mr Mallard said he did not believe that was the case any more.

"I can remember when they did that in the Taita courts about 15 years ago, but they haven't for the last 10 as far as I know of."

When other MPs said they had seen no score-keeping in sports in the last year, Mr Mallard was sceptical.

"I will chase that one down, because I have received assurances that stopped."

Mr Mallard said as far as he knew the practice only lasted in a few sports for a few years in the 1970s.

His current experience on the sporting fields of Wainuiomata was that most sports were highly competitive and even if adults tried not keeping score, the children and the coaches would.

Mr Mallard said he believed that many New Zealanders had hardened up their attitude towards winning.

"If you go back five or six years in New Zealand … if the All Blacks were playing the Wallabies and we were two points up with 10 minutes to go … you wouldn't be as nearly certain of us winning as I am now … similarly in netball."

National MPs also quizzed Mr Mallard about the Commonwealth Games team failing to meet medal targets.

Mr Mallard said greater investment in professional coaching was needed. Results would begin to show at the London Olympics.