Content Spinners have been around for a long time now, some are very sophisticated and some are like blunt force instruments. Put one in the hands of someone who is ESL and it all falls to pieces.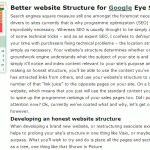 In my example the "writer" is Indian – and the level of English literacy coming out of that nation is usually very good. Not in the case of ashokdhan, sadly.
Ashok appears to have consulted a thesaurus and discovered that where the original document might say:
I confess to spending lots of my time with purchasers fixing technical problems
the thesaurus will tell you that spend = defray [source] and therefore the sentence can be spun to:
I confess to defrayment lots of your time with purchasers fixing technical problems
Then there is
Did i purchase your attention now? Ok, currently we've coated what and why, let's get on to however.
It just goes on and on.
Yes, it can be hard getting fresh and original content for your site but if you are passionate about your topic, and you live and breathe it in the real world, not just online then it won't be hard to find topics to show your expertise.
If you've only created a site because you want to earn online and have affiliate links to promote or you think that Adsense is the source of your future wealth then you'll be in for a hiding.