My husband's beloved Shuttle running Windows XP died last week and in it's place came Windows 8 with all the changes that neither of us were expecting. Gone was the old Outlook, gone was Word and Excel. After our initial setup woes it stopped feeling so different and it does appear to be quite a nice operating system.
We've managed to install Office 2007 and even PageMaker 5 and I've added the apps for Gimp and a few other graphics programs.
He has, however, had his hand forced into using Gmail full time and I think he'll be glad – one day. My problem was that he needed access to his email history – spread across numerous .pst files (to escape the 4gig limit). A bit of research showed there were two ways – a messy but free imap solution using Outlook on my computer or Transcend's Migrator tool (imap, but done for you).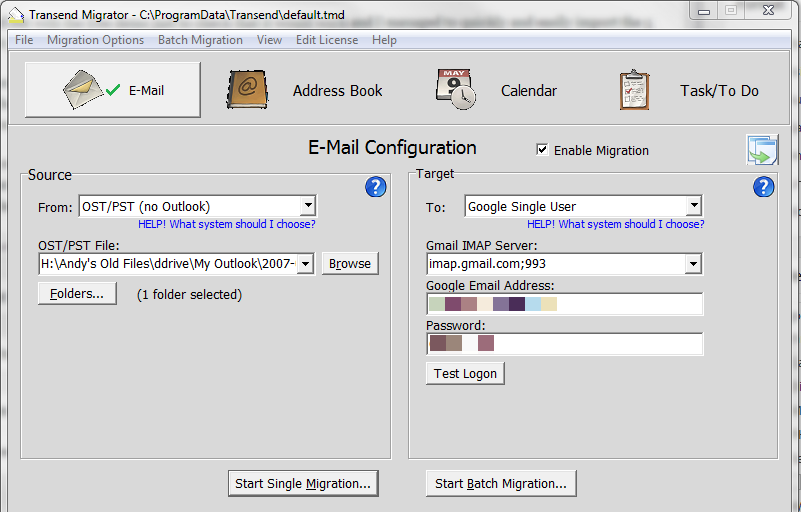 I started out with the free demo just to check that it would work and I managed to quickly and easily import the 5 emails it promised as a proof of concept. Purchase was painless and I was up and running in minutes.
Then came the bottleneck – with over a dozen .pst files and each being enormous the import was agonisingly slow. I blame the huge attachments he sends and receives. Thankfully it doesn't use many local resources so it just sat in the background and chugged away.

After a couple of days I was unimpressed to find out my license had been revoked – a quick email to tech support and I was back up and running within the hour – but without explanation. Presumably their records showed that all the emails had been sent to a single gmail account but it was curious that I'd triggered some sort of alert at their end.
If time is money, then it's worth buying the license to remove the finger crossing guess work of importing the emails.