Over on Digitalpoint I've had the ability to see where people really are for a while and mostly people are where they say they are. Its always a concern when people try to be somebody they're not and so now at the top of your posts we can now see you "fun" location and your "true location".
We all have to come from somewhere and its not that we should be proud of it, but we definitely shouldn't be ashamed. We are who we are and its what we make of our lives that really matters.
In the meantime… have a laugh at these fakers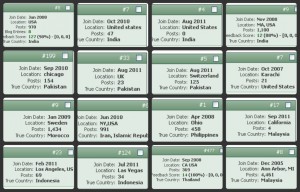 Edit
I was requested to remove any national bias so I've deliberately handpicked equal numbers for India and Pakistan but the rest of the grid shows that they are not alone – and one of the Pakistan fakers isn't there but wants to be. Actually, India is one up because I couldn't leave out the Las Vegas example. So much unnecessary detail!
I noticed that the Indians were more likely to give their location as a web address than a fake real world address.