I just had a query from a forum member about how to delete images from a thread. Its extremely simple once you know how… its just not that intuitive.
First up – edit the post and choose "Go Advanced".
Under the editing box you'll see a list of the attachments

Once upon a time there would have been a link beside each letting you control the attachment. Nowaday we have the Attachment Manager with a nice big button above the list.
Once there look right down at the bottom of the screen and you'll see the attachments that are on the post.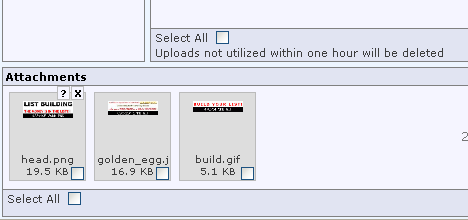 If you put your mouse slowly over one of the items a little x shows up. Click that and the attachment is gone.
When you are finished deleting the attachments which needed to be removed click Done, then save your changes and you'll find your thread looks just the way you intended.