My attention was drawn today to another discussion about newbies and their click-n-fraud requests made on their own sites, along side their links on other sites and in emails. Google (and hopefully the other ad networks) quickly blitz these fraudsters and they find themselves without any advertising at all.
A quick search on Google comes up with examples like this: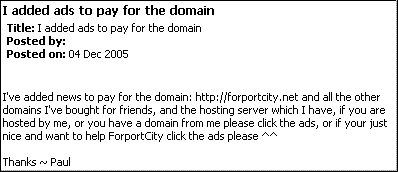 It's been reported and don't expect to see ads on that site too much longer.

Now that's easy situation, but what about when the site involves revenue sharing via a joint account? Forums tend to work by letting users enter their own publisher id but Squidoo (in particular) and Zoints (do they share?) have a single account that is used across all user pages.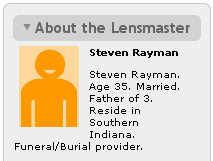 This has opened the door to exploitation as Steven Rayman shows us on his lens titled Google Adsense Discussion and goes on to say "I'LL SCRATCH YOUR BACK IF YOU SCRATCH MINE!!!".
On another lens he says "My corporation owns 5 funeral homes and 3 cemeteries. Currently looking at 2 more cemeteries to purchase by 2007." – if this is true then why does he need to defraud advertisers of few dollars?
Steven Rayman proves that it's not just ignorant kids who make this "mistake" but also adults in the so called "caring" professions.
And in doing so you could see Squidoo fail as they struggle to reduce the fraud and endear themselves to an advertising network.
Squidoo are not in the clear however, they should be using Google Alerts and onsite filters to detect this kind of content and activity and, hours after being manually alerted to the problem, the lens should have been pulled from view. I appreciate that there are timezone issues but there are now 30,000 lens – surely some of those users could be brought into an international moderation team to act swiftly on critical issues.