We've heard over last 24 hours that Aussie pop star Kylie Minogue has breast cancer. Showing the ignorance of probably a great many people is my DH with "but she's got little boobs" – if only it were that simple. Little boobs often means earlier detection but there are no guarantees, even men get breast cancer!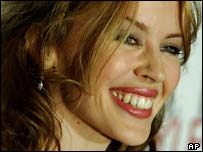 Ladies, take a minute tonight to do a self exam. Gents – give them a hand 😉 after all I know a few women who didn't find the lump themselves – it was their husbands.
I was astounded when my mother was first diagnosed at the women who came to visit her in hospital, all with their own stories. Most are living well and have healthy bodies. It's not the end – but catching breast cancer early is really, really, important.
Ref: