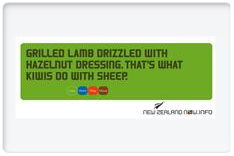 The Government have launched a new campaign that is aimed to bring Kiwis home.
These slogans (see above) are part of a $400,000 advertising campaign being launched by the Government in Australia today aimed at luring expat Kiwis home. [source: New Zealand Herald]
It's disappointing that they decided to rely so heavily on flash on the home page as the site loads incredibly slowly – even on fast connections. Or perhaps it's just that the host OneSquared underestimated the popularity of the viral marketing campaign.
And this is meant to be viral marketing? Why then, do they hide their best material behind a flash presentation? Why not open up a gallery of the best ads so that the bloggers can do their thing? FWIW the directory is open and it's at http://newzealandnow.info/media/ – you just have to know how to find it. They certainly don't make it easy.
The ad agency, on the other hand, has done a brilliant job with the catch phrases and I can see me using this one for many a year 😉